Boot XP7 WRS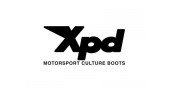 :
Ready to ship in 1-7 working days
External in vented Lorica - Shock absorber structure made of programmed shape Polyurethane with acetalic resin inserts over shin and heels - Slider supporting tip area with gear shift padding -
 Aerodynamic rear fins - Shin lateral slider - Grip rubber profile around shin area to flow with your tracksuit - Double opening system - Double micro metric Velcro fastening system - Vented 
lorica and air net over the heels area - Stainless steel slider - Air Tech plantar increases sweat dispersion along with internal mesh - Comfort Achilles to limit boot taking off - Non-crushable,
 pierce-proof nylon insole - Rounded, anti-skid racing oriented functional sole made of vulcanised rubber - Diagonal heel design keeps ideal foot positioning on footpegs.
The new XP7 WRS (Wind Racing System) comes directly from MotoGp riders, who need the best ventilation during races. Vented parts positions have been studied to guarantee the maximum 
aeration level without compromising boots safety.
Boot certified CE EN 13634:2002 with optional of implement: Wearing resistance of upper level 2 (EN 13595:2002, more than 12.0 sec). Cutting resistance of upper level 2 
(EN 3886:2002 more than 5)
No customer reviews for the moment.