Boot VR 6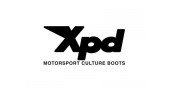 :
Ready to ship in 1-7 working days
The perfect boot for sport and sport touring riders. Featuring a combination of extreme racing style and protection with the comfort of a touring boot.
Spidi XPD VR6.2 Boots features:
Vented 1.5mm Lorica outer shell
2.2mm suede inner boot side grips bike and is heat and abrasion resistant
Polyurethane sliders
Shock absorbing shin, malleolus and heel structure is made of polyurethane
Shin and heel area vents
Polyurethane shifter protection
Air Tech plantar support for increased comfort
Composite insole with metal support
Vulcanized rubber sole with race engraving and slider-friendly rounded edges
Zipper closure
Calf adjustment by VELCRO® brand closures flap
Diagonal heel design keeps ideal foot position on footpegs
Replaceable Toe Sliders
No customer reviews for the moment.