VR-5 H2Out Boot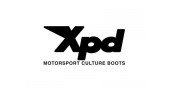 :
Ready to ship in 1-7 working days
The XPD VR5 H2OUT is a waterproof boot which offers support and protection for all weathers.
Safety: CE certified VR5 H2OUT has been designed by XPD using cutting edge technology in creating this versatile and durable road boot. It takes into account all-weather riding with both comfort using a highly resistant external microfibre and is supported by a waterproof, breathable and windproof membrane. The extra wide elasticated and composite upper area to the ankle allows freer and more comfortable ankle movement.
Comfort: Being versatile the VR5 H2OUT is provided with air compressor insoles, vented Air Techsole which helps sweat evaporation. The vulcanised rubber and rounded sole has been designed to benefit the foot action on the peg.
Design: VR5 H2OUT has been designed specifically for the rider taking in mind the need for versatility quality and comfort without compromising the importance of safety when riding all year round in all weather conditions
Benefits and Features of the XPD VR5 H2OUT Motorcycle Boots, in Black, include;
No customer reviews for the moment.