Boot X-LAND H2Out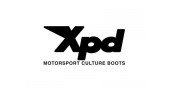 :
Ready to ship in 1-7 working days
X-Land on veekindel, tuulekindel ja hingav H2OUT membraanist touring / urban saabas. See saabas paistab silma ergonoomilise disaini poolest, tehes temast ideaalse kaaslase tänavasõidul.
* polüuretaan amortisaatorid
* tugevdatud varba- ja kannaosa
* H2Out - 100% veekindel
* touring tald 
* flex piirkonnad
* pehme veisenahk
* velcro klapp-kinnitusrihmad
No customer reviews for the moment.